With a shared passion for netball, Titans was formed by Lorraine Beel and Claire Turner in the Summer of 2002, with the aim of bringing people together and to provide a social fitness activity to committed players looking to improve their netballing abilities.
At Titans we welcome players of all ages and abilities in a friendly and encouraging environment, whether you're a complete beginner looking to try a new sport or an experienced player wanting to play competitively. Our regular training sessions are informative and fun with a focus on making netball enjoyable at any level.
We also welcome non-playing members to the club who may wish to be involved with coaching, umpiring or just to lend support!
Take a look around our site where you'll find news and information about the club including; forms, fixtures, socials, and kit.
We'd love to hear from you, so please get in touch!
TITANS NETBALL
SHOOT FOR THE STARS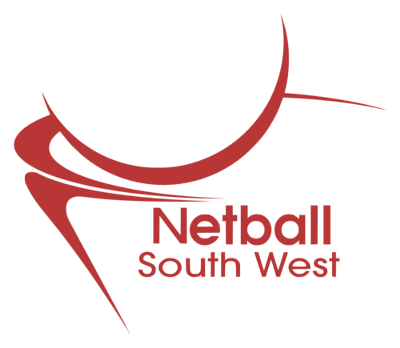 South West Regional League 2019/20 Season
15 Sept
29 Sept
6 Oct
12 Oct
13 Oct
27 Oct
2 Nov
17 Nov
24 Nov
8th Dec
5 Jan
12 Jan
2 Feb
9 Feb
16 Feb
1 Mar
8 Mar
22 Mar
L 37-47
L 38-52
L 43-58
L 28-52
W 54-42
L 43-51
L 24-55
L 44-52
L 34-59
D 37-37
L 45-48
L 22-68
AWAY
AWAY
Bath Uni
AWAY
AWAY
HOME
Whitchurch
Exeter B
Aquarians
Team Jets
Almondsbury
Galmington
Premier Romans
Team Bath A
Hucclecote Stars
Whitchurch
Exeter B
Aquarians
Almondsbury
Galmington
Premier Romans
Team Bath A
Hucclecote Stars
Team Jets
INSPIRE - ENCOURAGE - PLAY
Some teams play netball, we live it!
THUNDER Fixtures
Division 3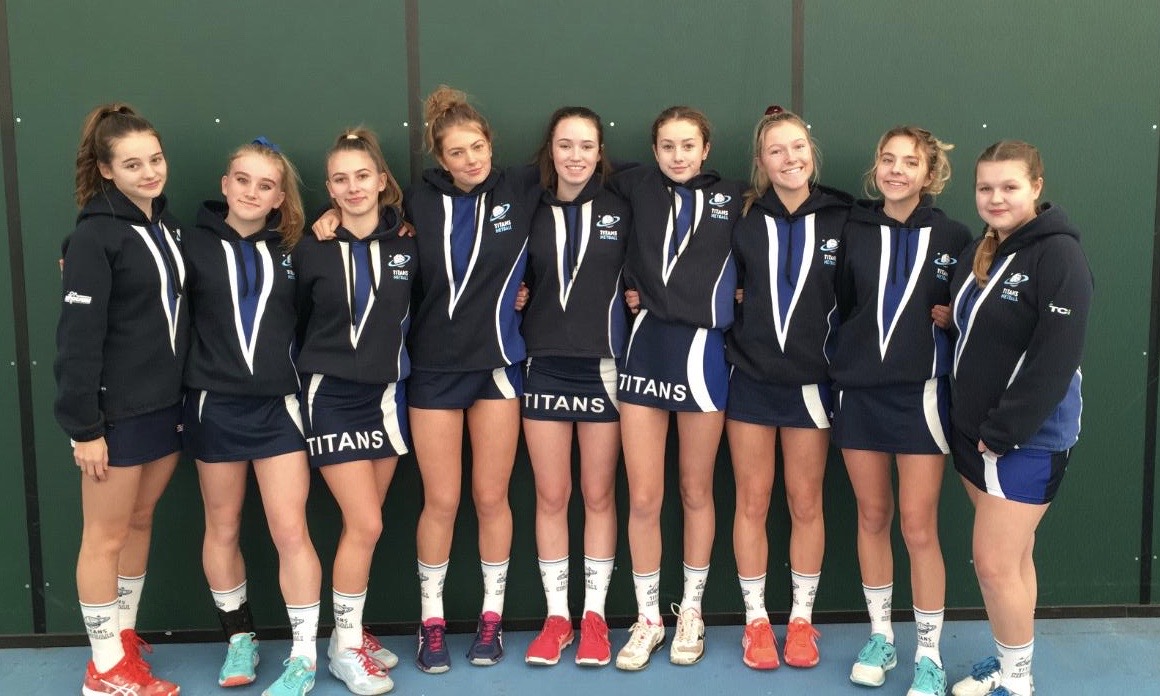 U16's Team Rockets at the TOP
January 2020 - Team Rockets travelled to Cornwall to take on Penzance, and came away with a superb performance, to take a comfortable victory, 56-28. 'Rockets' started strong, to take a sailable command on the game in the first quarter, with a lead of 19-5. Goal Attack Megan Burnell put in a fine performance to earn her the accolade of Player of the Match, with a great team performance from every player. They dominated in defence, and amassed 22 interceptions, to turnover the ball, and win possession for their team. A clean, slick performance, in which only saw them penalised for 7 contact calls throughout the game. Their dedication to training and to succeed, is definitely playing dividends. Team Rockets are now sitting top of the South West Regional Division Two South League, with an unbeaten record.
January 2020 - Thank you to the 'Burnell' family of Barnstaple Autocare, that kindly sponsored our new squad members in the South West U16 Regional Squad, to have matching hoodies. THANK YOU
NEW Socks for Titans Members
January 2020 - Titans Netball Club now have NEW Socks to promote our club. Our South West Regional U16 squad of Team Rockets pictured here showing them off. These can be purchased from the Titans for £10 per pair, or £15 for two pairs.
Titans Christmas Hamper to be WON
November 2019 - Titans have made up this fantastic Christmas Hamper to be won. Including over £150 worth of goodies, with lots of Marks & Spencers products, and to include a fresh 5kg boned & rolled Turkey, and a selection of fresh vegetables. Tickets are £3.50 each, or 2 tickets for £5. Draw will be made on 13th December. Let's celebrate Christmas in style. YOU HAVE GOT TO BE IN IT, TO WIN IT.
Great Action Shot of Poppy Sampson
November 2019 - Titans Lightning took on Hucclecote Stars in the SW Regional League Division One, in which resulted in some great action photos, taken by Hucclecote's Andrew Taylor. This photo here, shows our young defensive star Poppy Sampson in action, with a superb leap, to defend the shot. Well done Poppy.
OPENING THRILLER TO THE LEAGUE
November 2019 - An opener thriller to the start of Team Rockets campaign, in the South West Regional U16 League. Edge to edge action all the way through, saw them take the victory by the smallest of margins of one goal, over Devon rivals Teignbridge Titans 34-33. Nail biting action with Rockets only taking the lead in the very last minute of the game, to enable the fine victory. What a way to start the season, especially with the majority of the team being a year young. Player of the match plaudits went to Amelia Disney.
Nov 2019 - Our fantastic umpiring duo, of Nadine Sampson & Peter Burrows Bryan were out in action for their first match of the South West Regional U16 League season. Titans very much appreciate their dedication, to umpire on behalf of the Club. WELL DONE TEAM WHITE.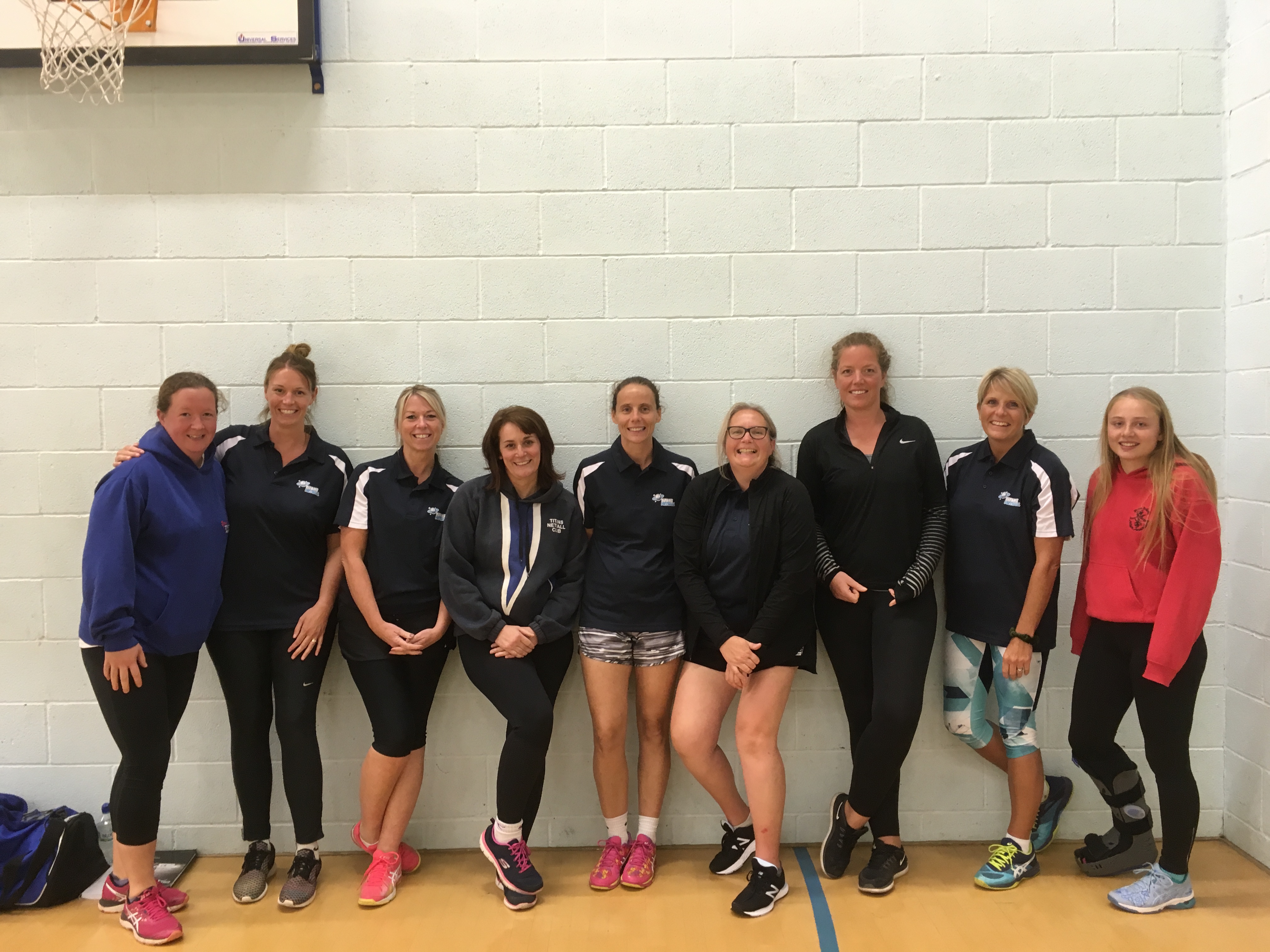 Titans Coaches out in force on Workshop
Sept 2019 - Titans Coaches dominate the England Netball 'On the Ball' Coaching workshop in Chulmleigh. 9 out of the 11 Coaches that attended were from Titans. A 3 hour workshop designed to give our Coaches ideas to take back to the Club. Well Done to Lorraine Cleverdon-Brend, Kim Davey, Janet Woodman, Claire Turner, Michelle Sampson, Lorraine Beel, Pip Vipond, Tracey Harrison & Ella Fraser Smith.
SW REGIONAL LEAGUE TABLES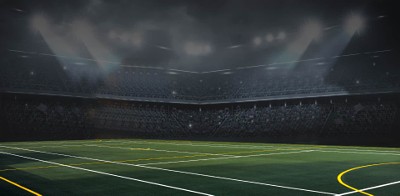 LIGHTNING Fixtures
Division 1
ROCKETS (U16's)
Division 2 SOUTH
TTNC
Penryn
Axe Vale
Penzance
Taunton
TTNC
Penryn
Axe Vale
Penzance
Taunton
W34-33
W45-32
W42-26
W56-28
CONC
AWAY
AWAY
HOME
HOME
CONC
17th Nov
1st Dec
8th Dec
12th Jan
19th Jan
2nd Feb
9th feb
23rd Feb
1st Mar
22nd Mar
CHRISTMAS HAMPER WON by Grace Parkin