With a shared passion for netball, Titans was formed by Lorraine Beel and Claire Turner in the Summer of 2002, with the aim of bringing people together and to provide a social fitness activity to committed players looking to improve their netballing abilities.
At Titans we welcome players of all ages and abilities in a friendly and encouraging environment, whether you're a complete beginner looking to try a new sport or an experienced player wanting to play competitively. Our regular training sessions are informative and fun with a focus on making netball enjoyable at any level.
We also welcome non-playing members to the club who may wish to be involved with coaching, umpiring or just to lend support!
Take a look around our site where you'll find news and information about the club including; forms, fixtures, socials, and kit.
We'd love to hear from you, so please get in touch!
TITANS NETBALL
SHOOT FOR THE STARS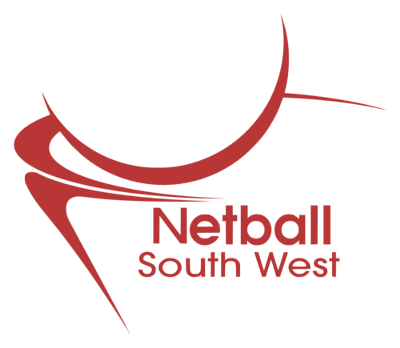 South West Regional League 2018/19 Season
LIGHTNING Fixtures
Division 1
23 Sept
30 Sept
7 Oct
21 Oct
4 Nov
11 Nov
25 Nov
2 Dec
9 Dec
6 Jan
13 Jan
3 Feb
10 Feb
24 Feb
3 Mar
10 Mar
17 Mar
31 Mar
W 44-42
W 56-40
L 43-47
L38-48
L 32-61
L27-65
L43-46
W50-40
W48-47
L41-52
L 44-48
W 56-37
L 38-69
L 47-49
L34-75
L 35-42
W 43-39
AWAY
Galmington
Almondsbury
Team Bath
Crossbow
Exeter
Aquarians
Hucclecote
Premier Romans
Carol Anne
DATE
Galmington
Almondsbury
Crossbow
Exeter
Aquarians
Hucclecote
Premier Romans
Carol Anne
Team Bath
INSPIRE - ENCOURAGE - PLAY
Some teams play netball, we live it!
THUNDER Fixtures
Division 3
Match Report - Team Thunder 17.3.19
​Team Thunder faced top of the table Cornwall Saints for their last game of the season, and were determined to get a point, and improve on their previous score line earlier in the season. Starting 7 were Louise Lathwell GS, Lorraine Cleverdon Brend GA, Kitty Sampson WA, Lucy Burnett C, Claire Turner WD, Ruth Chamings GD & Daisy Harrison GK. Titans started well and were causing Saints problems from the off set. Ruth & Daisy were getting many tips and interceptions , and the first quarter finished 16-7 to Saints. In the 2nd quarter, Lucy went to WD and Kitty to C and Lauren Offield took to the court as WA. Lucy immediately applied pressure and was able to turn over 3 phases of play, and Kitty controlled the game well at centre. Lauren was working hard at WA, and at half time the score line was 29-20 to Saints. (We drew this quarter!). The 3rd quarter saw Claire come back on as WA and Ruth & Daisy switched roles. These changes didn't work and Claire called a tactical injury to enable Lauren back on , and Ruth & Daisy reverted to their original positions. With a few minutes left of this quarter, Lauren then made way for Nicole Lathwell to return to the court, from being absent for several weeks, recovering from an ankle injury. End of the third quarter, the score line was 46-26 in Saints favour. The last quarter and no changes were made, and Thunder were playing well. With a few minutes to go, Daisy switched into the GA role, due to Lorraine rolling her ankle, and this made an immediate impact on the game, with Daisy netting 2 out of 2 attempts at goal. The game finished 63-34 to Saints, but a big improvement on the previous encounter, and Titans got their point. Player of the match accolade went to Lucy Burnett.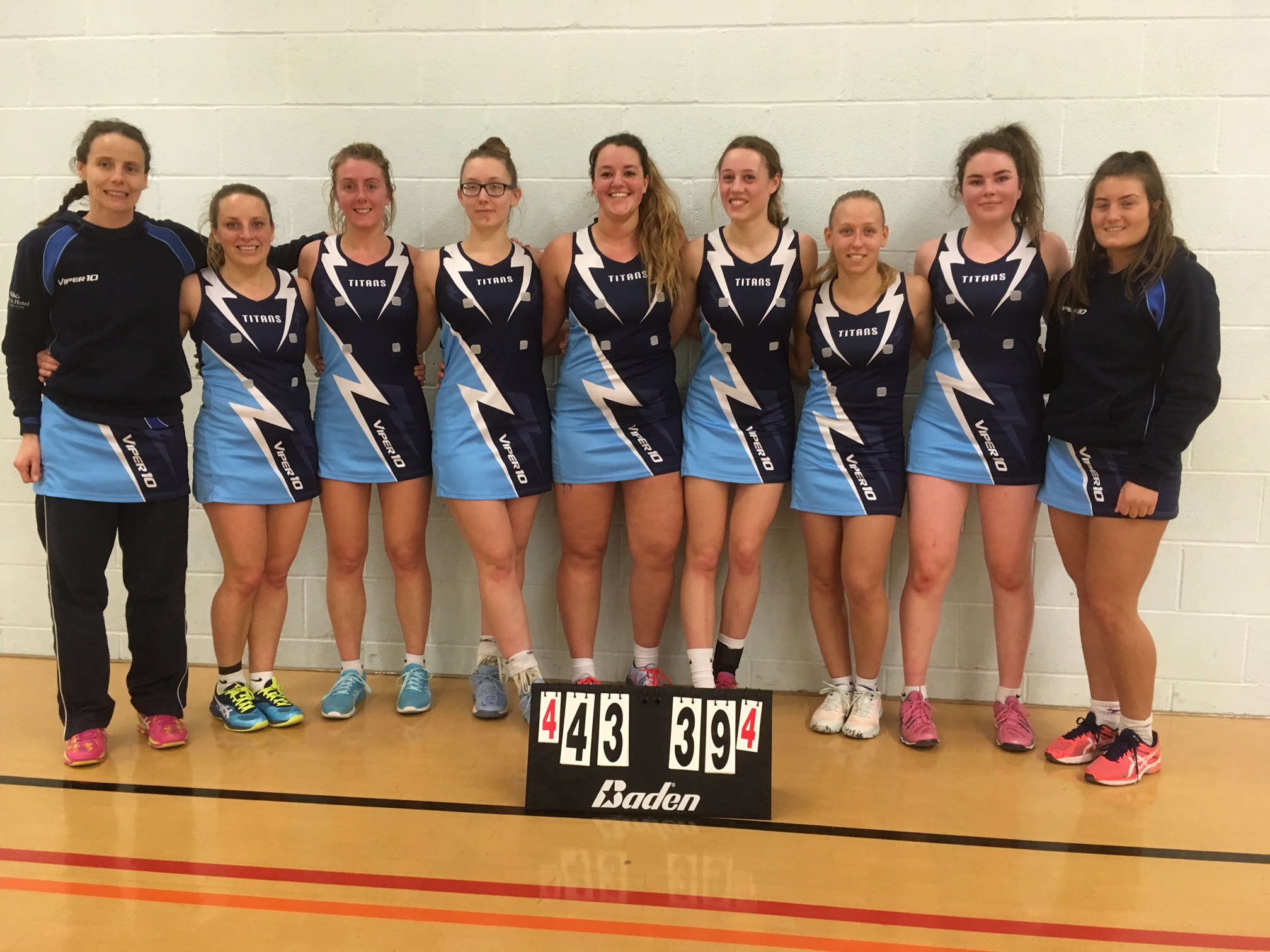 Match Report - Team Lightning 17.3.19
Team Lightning pulled out a fine victory over local rivals Carol Anne Diamonds in the SW Regional League. Knowing that it was going to be a close encounter, after only winning by the single goal before Christmas, Lightning came into the fixture all prepared, with positive mental attitude instilled within the team, they played with 14 hands and 7 hearts on the court, to win 43-39. The support from the crowd was definitely a positive factor, with many supporters for both teams. Both started well, and that set the tone for the rest of the game. Nothing could separate the teams, and both came in from the first quarter, with 10 goals a piece. No changes were made to Lightning for the 2nd period. Poppy Sampson and Amber Manley were working tirelessly in the defence circle, with Poppy making many a tip and rebounds to give Lightning every opportunity. Safe and accurate passes throughout the court continued, with Beth Nancekivell, Clare Wilmott and Rebecca Manley linking up well with Lightning shooting duo of Grace Wilton & Emily Risdon. At half time, only one goal could separate Lightning, being 21-20 up. A tactical change for Lightning for the 3rd quarter, so Beth Nancekivell move into the centre bib role, Rebecca Manley back into WD, and Clare Wilmott moving to WA. This had a positive impact on Lightning, with 5 out of 7 Titans players gaining interceptions for this quarter, and securing a shot for goal for player of the match Grace Wilton. Only 2 unforced errors, enabled Lightning to take a three goal advantage coming in from the 3rd quarter. Diamonds were certainly not going to give it to us easy, and they came out of the blocks for the 4th quarter to take 4 goals without reply from Lightning. Titans could have crumbled at this point, but they stayed composed and carried on with their game plan. Unforced errors were kept to a minimum, and the accurate shots from Grace and Emily saw us take a lead of 5 goals, when there were only 4 minutes of play left. Lightning saw the opportunity to enable ball possession to allow the clock to tick down. Coaches and supporters were raising their voices from the sidelines, and the momentum of the game had swung into Lightning's favour. With belief and confidence, Lightning were able to take the win by 4 goals, 43-39. Team Line Up: Amber Manley, Poppy Sampson, Beth Nancekivell, Clare Wilmott, Rebecca Manley, Grace Wilton, Emily Risdon, Michelle Sampson & Jo Nancekivell. Player of the match went to Grace Wilton by the opposition, as well as Titans. Her calm manner on court, and fantastic movement, with shooting stats of 74% was richly deserved.
Back To Netball starting at Titans
Titans NC are holding Back To Netball Sessions to start on Wednesday 24th April 2019. This is an ideal opportunity for those that wish to play netball in a more relaxed environment, whilst learning new skills and practices. These sessions will be coached led and include a friendly game at the end. Titans NC are offering the first session free of charge, and welcome anyone to just turn up and play. We will trial these sessions up to the Summer Holidays to gage the interest. The price will be £4 per session, and will be in the sports hall at Park School, Barnstaple, from 5.30pm to 7pm. Come and enjoy this fantastic sport and make new friends, whilst getting fit and having fun.
Come & support Titans Netball Club, at our BIG BREAKFAST on Saturday 20th April. To be held at High Bickington Community Centre, from 8am to 11.30am. Looking for volunteers, donations of breakfast items and draw prizes.
Team Thunder - Match Report 3.3.19
Team Thunder started strongly against Taunton side Vivary. Having lost to them before Xmas by 29 goals, we knew we were in for a tough ride. The shooting duo of Lorraine Cleverdon Brend & Louise Lathwell started brightly with 12 out of 14 attempts for the first quarter. It was a challenge for the centre court players of Lucy Burnett & Lorraine Beel to get the ball past Vivary's WD, as she was hunting down every ball, and coming away with lots of possession. Thunder kept their composure to take a marginal lead at the end of the first quarter 12-10. Rowan Fitzsimmons & Lorraine Beel made way for Claire Turner and Daisy Totterdell to take to the court for the 2nd quarter. Player of the match (and so richly deserved) Daisy, started the game as she meant to go on, with 4 interceptions and 4 tips for the 2nd quarter, and kept Thunder in the game. She worked tirelessly with Ruth Chamings (GD). Paula Young was out on the wing, and applying plenty of pressure. Our shooters were forced to shoot long, and not getting the consistency on target to only take 8 out of 15 attempts. Several unforced errors from the mid court, allowed Vivary to creep into the lead at half time 20-21. More changes to the Thunder line up for the 3rd quarter. Ruth went in to the centre bib, to allow more height, and link up with Lucy Burnett at WA. Our unforced errors were kept to a minimum and Rowan proceeded into providing 3 vital interceptions for this quarter. VIvary's defence kept our shooters out to the edges of the circle, and due to the pressure of the mid court players, our shooters were forced to shoot long, with only 6 out of 14 attempts sinked. Coming in from the 3rd quarter, we were now 4 goals down, 26-30. The last 15 minutes of play, were certainly upped a level, in regards to physicalness. To try and change the dynamics of the game, Ruth took the role of GA, and Cleverdon Brend reverted into the shooter role. Lorraine Beel came back onto the court at WA and Lucy reverted back to centre. To begin with, Thunder managed to patiently claw their way back into the game. Steady passing, made Thunder provide safe and secure passing, and we started to regain the score. This certainly rattled Vivary's players and the voices of their team bench. With only 5 minutes of play left, Thunder had managed to get within 2 goals. Pressure was applied by their defensive players to get our final ball into the circle. With lots of contact and obstruction called, we were certainly having to work our socks off. It certainly made it hard for our shooters to feed the ball around the circle to get the perfect shooting opportunity, in which left us not getting the scoreline we needed, and bowing out at the final whistle, losing 34-39.Team Line Up: Paula Young, Ruth Chamings, Rowan Fitzsimmons, Lucy Burnett, Lorraine Beel, Lorraine Cleverdon Brend, Louise Lathwell, Claire Turner & Daisy Totterdell. Player of the Match from the opposition went to Lorraine Cleverdon Brend, and Daisy Totterdell won the vote out right from Titans members.
Team Lightning - Match report 3.3.19
Titans Lightning did not have the best start to today's match, having being delayed in traffic for over 2 hours beforehand. Thankfully, Hucclecote were happy to change the match start time and play began at 12.45pm. With 8 players, Lightning were limited to their choice for combinations, however the first quarter started well. Passing was quick from both teams but it soon became apparent that Hucclecote's shooter's accuracy was excellent, with one player only 14 years old, Amber Manley (GK) and Poppy Sampson (GD) had their work cut out. Perhaps due to lethargy, Titan's players were slow and errors were made and Hucclecote began to increase their lead, finishing ahead by 8 goals (11-19). Michelle Sampson (Captain/WD) made no changes to the combination for the 2nd quarter and Clare Wilmott (C) and Rebecca Manley (WA) worked hard in attack and Hucclecote's defence were tight. The quarter was the most frustrating for the team as forced errors were made and Hucclecote maximised on these errors, increasing the lead significantly by 21 goals (18-39). With nothing to lose, the team opted for changes in the centre court and in defence for the 3rd quarter set up. Amber Manley (Player of the Match), played well and forced the GS to change her play in order to receive passes. Unfortunately, once Hucclecote's shooters had the ball, goals were quickly scored. Emily Risdon (GS) and Grace Wilton (GA) had to work incredibly hard to get free for the ball, but shots were accurate, when given the chance. End of the 3rd Qtr, saw Hucclecote ahead by 27 goals (27-54). Titans aim now was to remain within half of Hucclecote's score to obtain a point. Rhiannon Furlong made her debut in the final quarter as WD and adapted well to the speed of the game, but Lightning were unfortunately chasing their tails and could not narrow the gap. Although a clean and well contested game, a disappointing end score of 34-75 to Hucclecote.
TWO New Level One Coaches
24th Feb 2019 - Many congratulations to Janet Woodman & Charlotte Babb of whom have passed their Level One Coaching Award with flying colours. Both have been supporting Titans Netball Club for many a year, and now regularly help coach our Junior Section. Well Done Ladies
Match Report - Team Lightning 10.02.2019
Team Lightning took to the court this afternoon on home ground at Chulmleigh to play Exeter. With Exeter sitting comfortably on the top of the league table, and Titans Lightning with only 7 in their squad, the team knew it was going to be a tough match. However, Lightning did not disappoint in the first quarter and gave the spectators a thriller of a quarter. Almost goal for goal and a few error made, meant that the teams' spirit was high. With Exeter only extending their lead towards the end of the first quarter 16-10. Titans attack worked tirelessly in the 2nd quarter and didn't make it easy for Exeter's defence, playing the ball around to ensure safe feeds to Beth Nancekivell (GA), and Grace Wilton (GS) were given. However, Exeter with a large squad were able to rotate players making increasingly difficult for Lightning to suss out the play. Coming in at half time Exeter 38 - Titans 20. The team recapped on their training from Thursday which focussed on positive thinking and determination, and thrived in this quarter. All seven players worked with the attitude and belief and although the lost the quarter, it was only lost by a single goal. Amber Manley (GK) and Jo Nancekivell (GD) did not allow balls into the circle easily and centre court players Clare Wilmott (C), Becka Manley (WA) and Michelle Sampson (WD) drove the ball safely down court. Fitness was evident as balls were quickly picked up following errors and the speed of Exeter was visibly slowed down. A thriller of a quarter again for spectators. Coming in from the 3rd quarter Exeter 50, Titans 31. The final quarter was equally as fast and furious as the previous three quarters. Unfortunately, more errors were made by Titans which allowed Exeter to increase their lead a little more than Lightning would have liked, however players did not give up the fight. Perhaps due to tiredness, more obstructions were called against Titans and Exeter made sure they maximised on these opportunities, bringing their victory to 69 goals to 38. All players agreed that the game's score, unfortunately, did not reflect the game but that it was a clean, enjoyable game all in all. Player of the match went to Beth Nancekivell from both the opposition and Titans.
SW REGIONAL LEAGUE TABLES